Active Learning Simplified
Purposefully Designed for Education: iClicker Effortlessly Adapts to Your Teaching Style and Streamlines Classroom Engagement
Easily conduct

knowledge checks

Ignite

engaging discussions

Foster

interactive peer learning

Ensure every voice is heard through

guided group activities
iClicker Groups* simplifies the group learning process by managing, assigning students into groups, and guiding them towards consensus during activities. Create an engaging, interactive environment where students thrive through collaboration, exchanging ideas, and developing problem-solving skills. With iClicker Groups, every student's voice is heard and valued, fostering a sense of connection and equal participation in their learning journey.
Schedule a quick demo with an iClicker expert to see how this feature works.
*In order to see and use the iClicker Groups feature, instructors must use version 5.4 or above software, and students need to update their mobile apps to the latest version or use the web.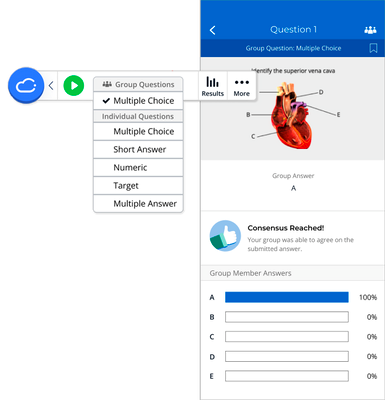 Polling questions that help students make connections
Short answer
Students can enter a freeform response (word cloud, essay, multiple choice A-Z, matching, ranking)
Numeric
Students can input numeric values (numeric questions, scientific notification)
Target
Students can tap on a specific area of an image to answer a question (anatomy, graphs and charts, emotion scale, select on a map)
Exit poll
Students share feedback at the end of class, giving immediate insight into students' perceptions of their own understanding.
Multiple choice
Students make a simple selection from a list of options (multiple choice A-E, Y/N, T/F, survey, ice breaker)
Multiple answer
Students can select multiple answers to a question (multiple choice A-E, survey, ice breaker)
All polling questions can be asked in anonymous mode, except for exit polls.
Explore all of our question types with your free instructor account.
Easy to manage
in-class quizzing
Evaluate student understanding or encourage attendance with iClicker's Quick Start or NEW Pre-Created Quizzes. Students can also self-pace quizzes within the iClicker app, easing common test anxieties.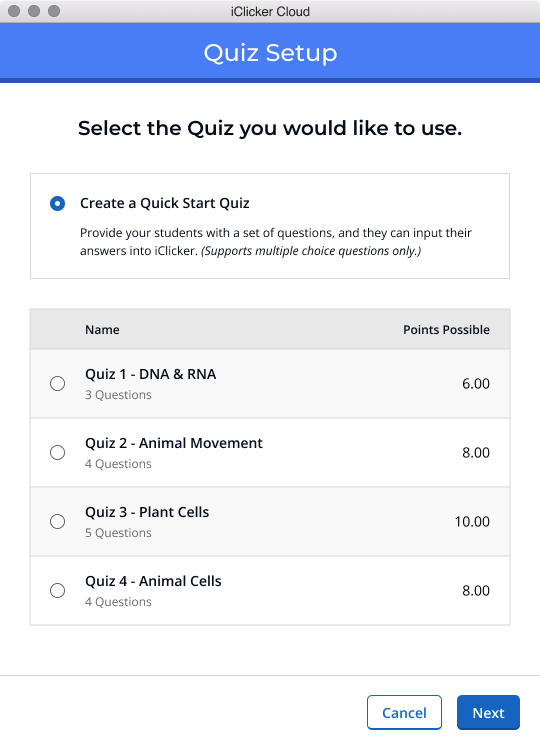 Pre-Created Quizzes*
new
Pre-set Answer Keys:

Add answer keys and feedback ahead of time, streamlining the grading process.

Customize Questions:

Variety is key! Choose multiple-choice or short-answer question types to keep quizzes engaging.

Randomized Order:

Students can receive questions in different orders to mitigate cheating.
Quick Start Quizzes
This option is a great fit for classrooms leveraging iClicker remotes, or preferring traditional methods like paper quizzes or on-screen questions that can be answered through the iClicker app. This design is perfect for facilitating quizzes comprised solely of multiple-choice-only questions.
In order to see and use the Pre-Created Quizzing feature,

instructors must use version 5.5 or above

software, and

students need to update their mobile apps

to the latest version (minimum 6.6 iOS & Android).
iClicker Focus brings attention back to learning
iClicker keeps students present and engaged by reminding them to return to their iClicker student app if they exit during class. The Focus feature…
Reduces distractions and multitasking on mobile devices
Encourages self-regulation behavior among students
Provides analytics on classroom attentiveness to help prompt intervention, if needed
Create a free instructor account and discover first-hand how iClicker supports student engagement. Or, schedule a quick call with an iClicker specialist to explore how it can address your course needs!
"In my class of 80 I get 90% to show up for the synchronous lecture, driven by iClicker!" —Matt Evans, University of Wisconsin – Eau Claire