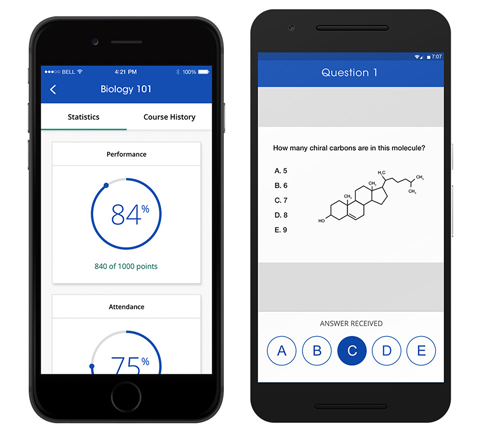 Bring your own device
Use your iPhone or Android device to participate in iClicker polls and quizzes.
View questions & answers
Review all of the questions asked during class. View the question images, your answers, the correct answers, and how the rest of the class answered.

Enjoy advanced question types
Answer questions by tapping on an image or sending a tweet length response.
A: Yes. iClicker Cloud supports the use of mobile devices and laptops in your class. iClicker Cloud allows for students to participate using mobile devices and laptops by default.
A: No. You do not need an iClicker base if all of your students are participating using mobile devices or laptops and you are not using the iClicker instructor remote.
A: No. We have no plans to discontinue the iClicker remotes. Students can choose to participate with iClicker remotes, mobile devices or laptops.